After having the chance to whet our appetite with last month's review of the Mate 20 Lite, we were delighted to be able to get our sweaty hands on Huawei's latest and greatest – the Mate 20 Pro.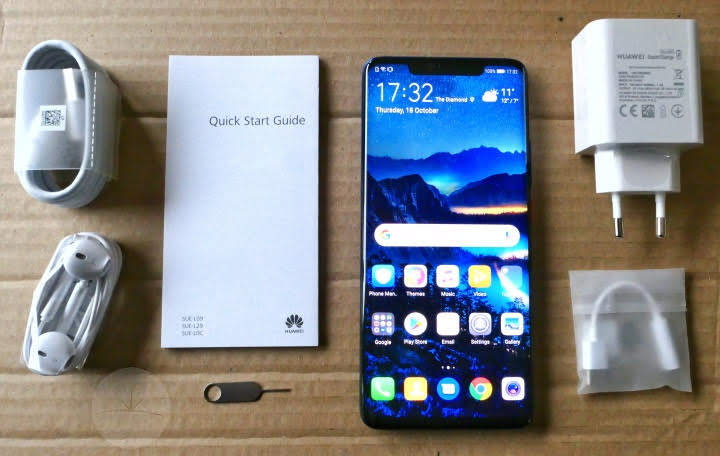 Build and Design
Huawei have gone with a "3D glass" design for the Mate 20 Pro, with the curved edges of its 6.39″ display blending seamlessly into aluminium at the edges. We also have a nice selection of colours available – Black, Pink Gold, Midnight Blue, Emerald Green and Twilight (pictured). The back surface of the blue and green variants are also etched with a "Hyper Optical" pattern of diagonal lines that give the surface more grip. I definitely preferred this finish compared to the slippery glass alternatives – these two models were less of a fingerprint magnet and felt more secure in the hand. The other colours aren't the easiest phones to hold onto and you'll likely want to add some sort of case or skin.
Regardless there's no doubt that the Mate 20 Pro is a great looking device, with its solid build and clicky buttons leaving you in no doubt that this is a premium handset. Despite packing a relatively large screen and battery, the Pro is relatively lightweight and doesn't feel bulky in the hand.
From the front, the curved design of the phone could be mistaken for Samsung's S9+. However the Mate 20 Pro is a little taller and sports a notch area at the top. Notch haters have a setting to hide the offending indentation with a black strip running along the top of the screen. Apart from status indicators, this area then remains unlit on the Pro's OLED display and this does a great job of hiding the notch unless you're specifically looking for it.
This notch houses a 24 megapixel selfie lens, speaker, notification LED and all the technology needed for the 3D face unlock feature including an infrared camera, dot projector and time-of-flight proximity sensors. These allow the phone to automatically unlock once the screen is pointed in the general direction of your face and won't be fooled by a 2D photo. Apart from the occasional hiccup I found this feature fast and reliable – even in low light.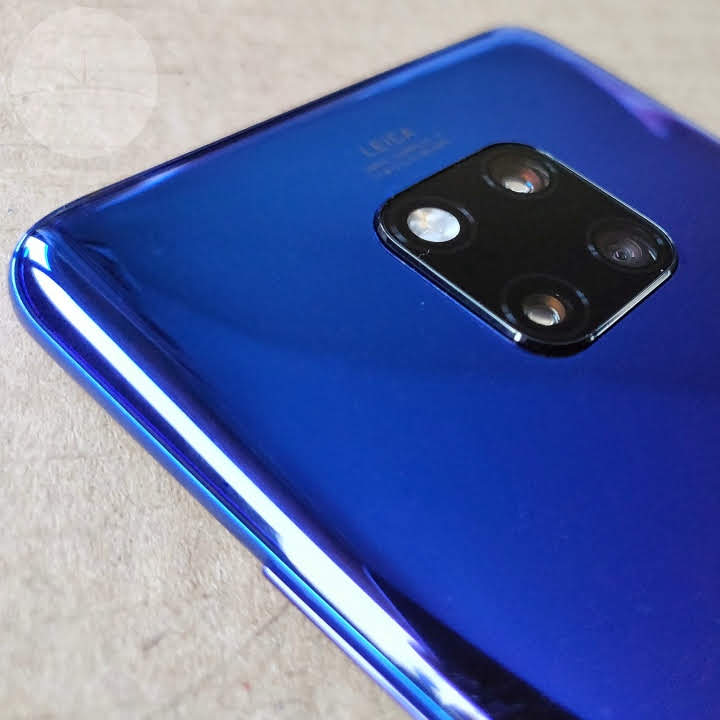 The back of the phone has a more distinctive look thanks to a centered 2 x 2 camera matrix that protrudes slightly from the body and houses the dual-LED flash and triple Leica lenses. I liked how this is giving Huawei's latest high-end devices a design language of their own – setting them apart from the multitude of similar looking handsets on the market.
You may also notice the lack of any visible fingerprint sensor. This Mate 20 Pro model not only has 3D face unlock but was also one of the first devices to include a fingerprint scanner built inside the display. Unlike the usual capacitive scanner, there's an optical sensor hidden in a special area underneath the lower third of the screen. At authentication time, this area lights up as you apply pressure and captures a high-contrast fingerprint image. Although this technology is known to be slower and less accurate than the capacitive type, Huawei have done a good job with this implementation – it detected my print the majority of the time and unlocked the phone quickly. Together the combination of these two bio-metrics scanners deliver a worthwhile user experience that means I no longer need to lift the phone from the desk to unlock it with my finger and when I do, the face unlock takes over.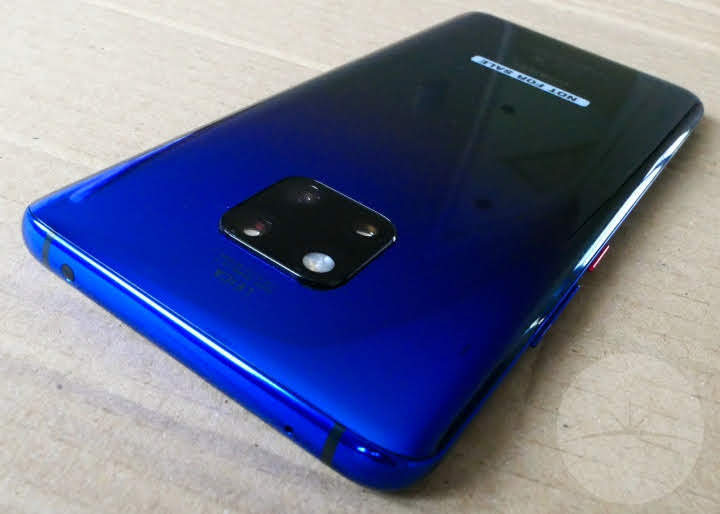 Volume and power buttons are situated along the right-hand side of the device, with the power button sporting a distinctive red colour on all but the black variants. Complementing the notch's speaker, we get stereo audio output thanks to another driver cleverly embedded inside the USB Type C socket at the bottom. I'm definitely a fan of this little innovation – as phone speakers go, these two combine to produce excellent audio output with decent volume levels. Unlike many phones, the USB-C location also prevented the annoying tendency I have to block the speaker with my hand when landscape gaming.
Unfortunately there's no 3.5mm headphone socket (as included with their lower-end "Mate 20" and "Mate 20 Lite" models), but in the box you do get both a decent set of USB-C earbuds and a 3.5mm to USB-C adapter.

Specs and Performance
The 6.39in OLED display has a 19.5:9 aspect ratio with a 3120 x 1440 resolution and the settings have an option of automatically / manually lowering this resolution to save power. Huawei have sourced this panel from Chinese company BOE rather than Samsung. If the display on the Mate 20 Pro is anything to go by then I'd say BOE are going to bring some serious competition to the OLED screen manufacturer arena currently dominated by Samsung and LG. It's a gorgeous display – bright and sharp with accurate colour reproduction and just the right amount of saturation.
The Mate 20 Pro (and Mate 20) are the first smartphones using Huawei's new Kirin 980 octa-core processor (2x high-powered 2.6GHz, 2x medium powered 1.92GHz, 4x low-powered 1.8GHz). Although Apple got there first, this makes them the first Android phone manufacturer to use a SoC built using a 7nm process and this offers power and energy efficiency gains over 10nm chipsets.
Benchmarking found the Kirin 980 showing significant improvement over last year's Kirin 970 across the board. In use the phone runs very smoothly with no noticeable lag and fast app launching / switching. The Mali-G76 GPU kept high-end gaming frame rates smooth with minimal battery impact and no overheating issues. Huawei also include a performance mode that will crank the processor up to 11 at the expensive of battery life but from my usage I found this mode unnecessary. Long-term performance is assured with Huawei's "Stay Fast" promise which claims the Mate 20 Pro will retain 95% of its initial performance after eighteen months of use.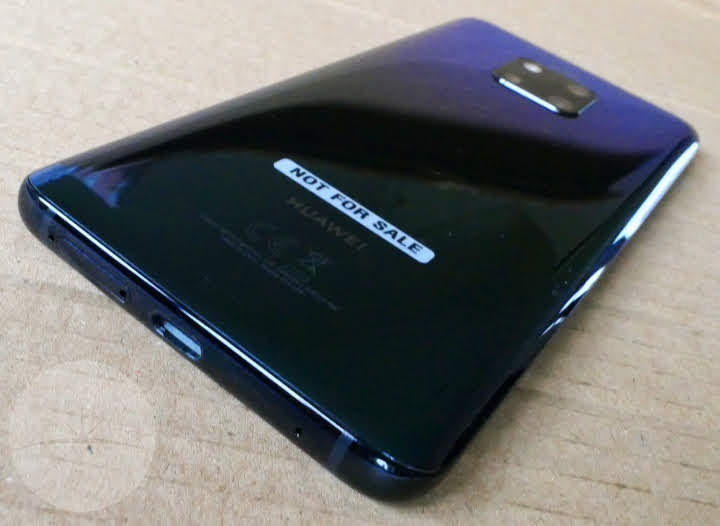 Huawei have managed to cram a 4200mAh battery inside the Mate 20 Pro and as you'd expect, this doesn't disappoint. Despite some heavy usage (and Always On Display enabled) I haven't managed to deplete the battery inside a day. 36 hours was typical (with around 7 hours Screen-On-Time) and I could even stretch to 48 hours with lighter usage. Even when the large internal battery does run low, the Pro recharges quickly thanks to the included 40W SuperCharge power brick which can bring it from dead to almost 70% in just half an hour. Despite this speed the phone remains impressively cool during charging which will hopefully protect the battery in the long term.
Qi wireless charging is also fully supported and you can even use what Huawei call "wireless reverse charging" to charge other Qi compatible devices by placing them on the back of the phone. Besides getting one up on mates (by offering to charge the dead battery of their lesser phone), this feature could also be potentially useful for other Qi wireless accessories such as headphones or smartwatches.
Onboard memory should satisfy most users – we get 6GB of RAM and 128GB of storage, with the latter expandable via a new proprietary "nanoSD" card to a maximum of 256GB.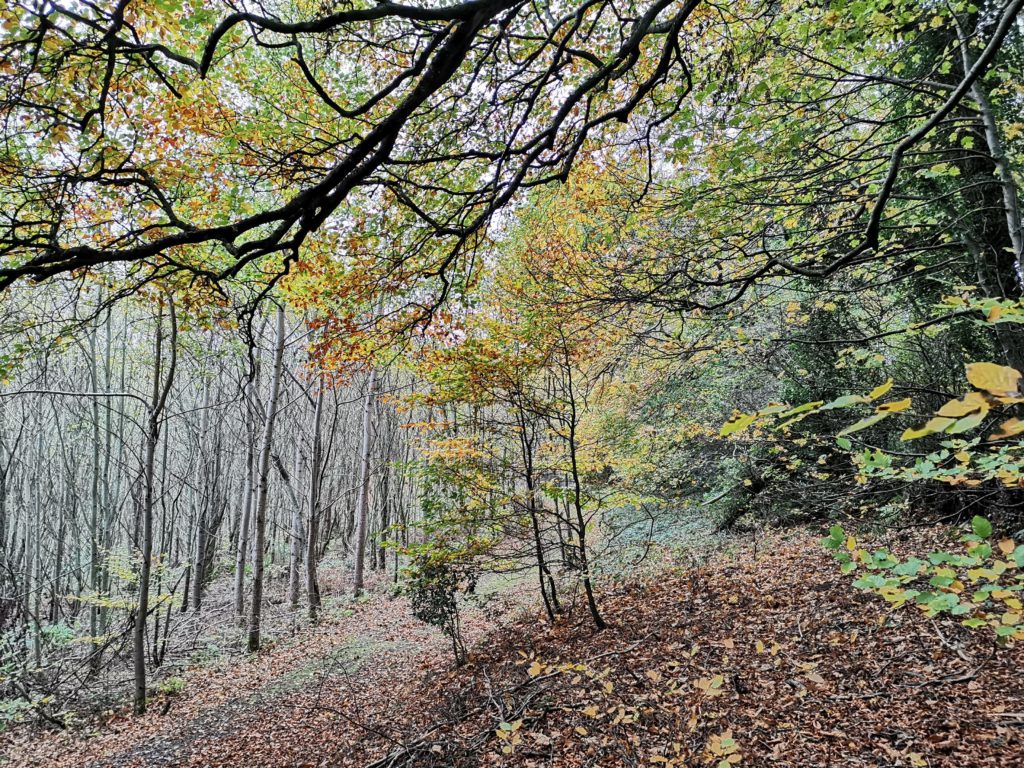 Camera
While I've been aware of Huawei's reputation for producing affordable handsets with decent hardware, it was all the praise the P20 Pro's camera performance garnered that really brought them to my attention. 6 months later and it's the turn of the Mate 20 Pro to take the spotlight – again sporting triple rear Leica lenses. This time the P20 Pro's monochrome lens has been replaced with a colour 20MP ultra wide-angle (0.6x) f/2.2 lens along with 40MP wide-angle f/1.8 and 8MP tele (3x optical zoom) f/2.4 lenses. A front-facing 24MP selfie-cam rounds off the quartet.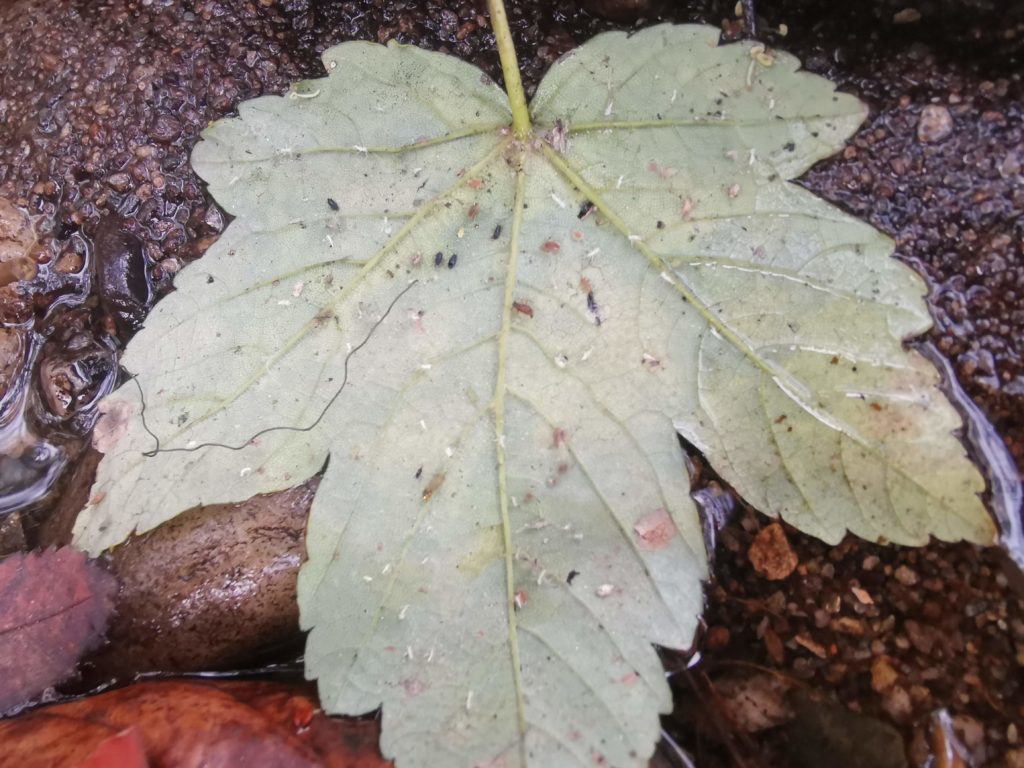 These lenses work together to capture 10MP images (by default) with zoom levels between 0.6x to 3x optical, 5x hybrid and 10x digital zoom. There's also a setting to shoot 40MP photos with zoom disabled. Super macro mode even allows you to focus on objects just 2.5cm from the lens.
Huawei's camera app is fully featured while remaining relatively simple to use. It has a 1x icon that you can tap to toggle zoom level between 3x, 5x and 0.6x – or you can drag it to perform a more precise zoom up to 10x. In use this worked great, allowing me to capture some challenging shots that I'd normally miss when using a smartphone camera. Take for instance this shot from the Huawei's press party at the Mate 20 launch…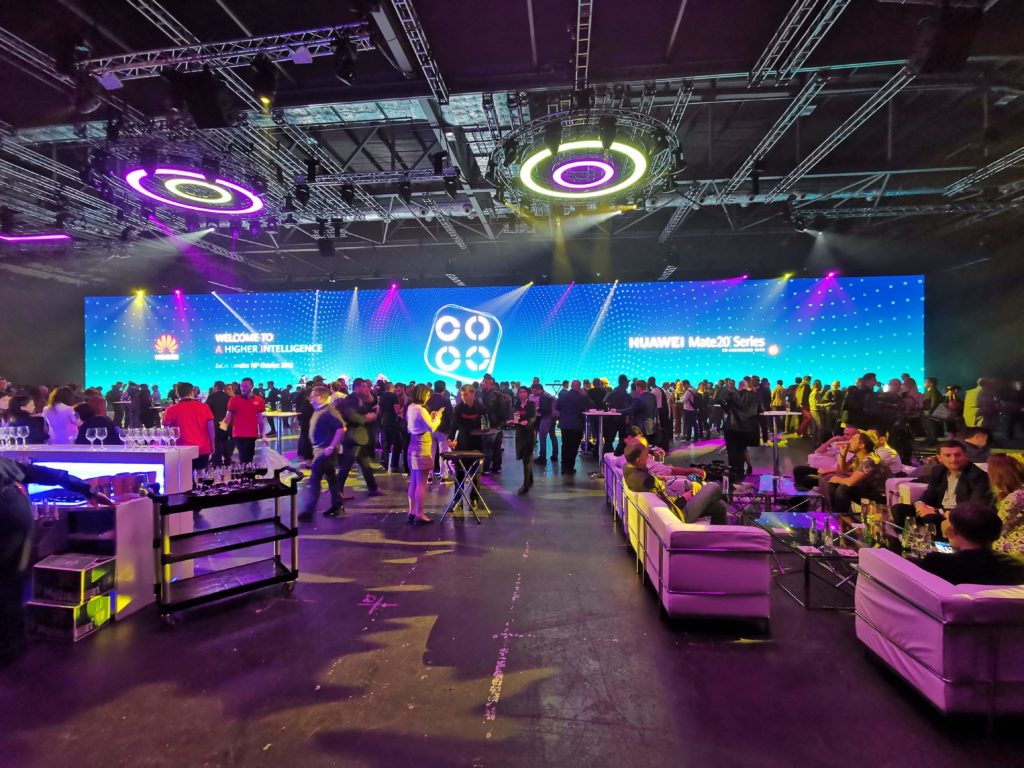 I was right at the back of the room and still wasn't able to fit the entire presentation screen into the frame. A panorama would be a mess with all those people moving around a dark room, but having that ultra wide-angle lens meant I was able to get the shot. Similarly the 8MP tele lens is great for getting you much closer to the action without losing detail (like with a digital zoom).
The app has a slider to select between Aperture, Night, Portrait, Photo, Video and Pro modes along with extra modes listed under a More section including Slow-mo, Panorama (2D and 3D), Monochrome, AR lens, Light painting, HDR, Time-lapse, Filter, Watermark, Documents and Underwater (with the option to download more).

There are a couple of neural processing units built into the Kirin 980 chip that allow the camera app to automatically apply an appropriate filter based on whatever object or scene is detected. Huawei call this Master AI and while this isn't a new feature for them, it has now been upgraded to recognise 1500 different scenes. On the whole it gets things right most of the time and photos generally do look better with this mode enabled. However this can be subjective and can be disabled if you favour photos with unaltered saturation levels and a more natural look. Huawei also extend this object recognition functionality to two non-photo related features – HiVision searches the internet for whatever the camera lens is pointed at, while HiTouch lets you shop online for objects you select in photos.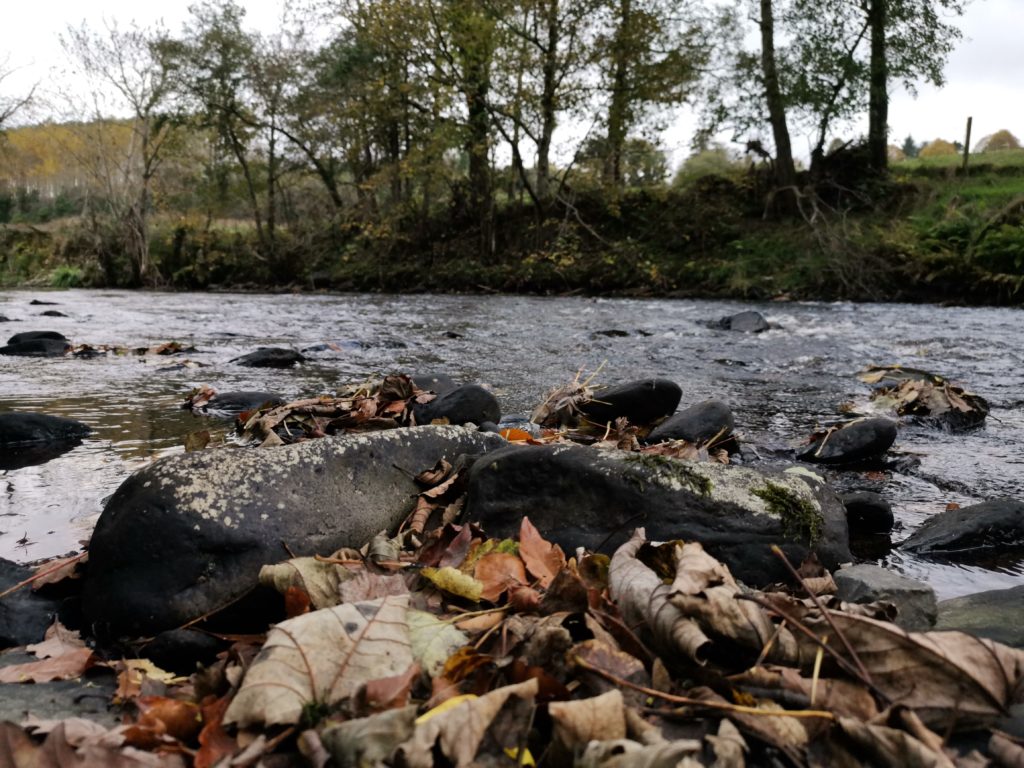 You can get a nice bokeh effect in Aperture mode with a control to manually adjust the depth of field. Night mode lets you take stabilised (hand-held) long exposure shots in low light – this works great and allows some amazing shots in almost complete darkness. I found myself using this mode a lot.
You can apply various lighting effects in Portrait mode and have AI automatically switch out the background with various effects. Selfies have the usual beauty options for warmth, skin smoothing and face thinning.
AR lens mode allows you to generate 3D live emojis called Qmoji that are based on your expression (similar to Apple's Animoji). The focus on AR seems to have been toned down compared to the Mate 20 Lite, but they're still available for those that find them useful.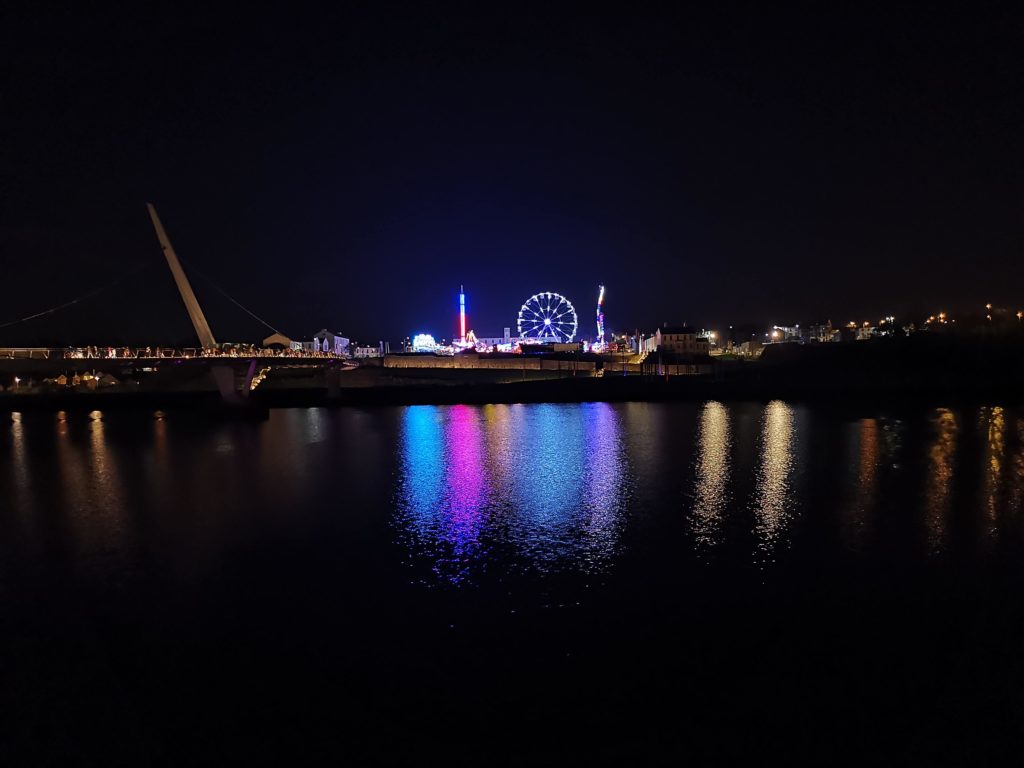 As a point-and-shoot camera the Mate 20 Pro produces sharp, bright, detailed images with rich, accurate colours from all its lenses (front-facing selfie cam included). This can also be said for 4K video which also recorded decent quality audio. Video stabilisation worked well but sometimes when panning I did notice some juddering at the edges of the screen.
Software
The Mate 20 Pro comes with Hauwei's EMUI 9.0 (Emotion UI) skin over the latest version of Android – 9.0 Pie. I complemented EMUI 8.2 during the Mate 20 Lite review, and this positive experience continues with the latest version of the O/S. Everything runs smoothly and anyone familiar with Android devices will be right at home here. Even hard-core enthusiasts should be satisfied after they switch launchers and uninstall a few Huawei bloat apps.
EMUI has a few bonus features on top of stock Android. Private space lets you use a different fingerprint to unlock the phone to a completely separate phone setup, while app twin allows you to have two separate installations of the same app (useful if you've more than one account).
Huawei include an extra level of app management on top of Android 9's battery optimization settings that stop apps from running in the background. This is great for power saving as it can also prevent background processes from ever launching, but can also be quite aggressive by default. If you find you're no longer getting notifications from your favourite apps then you may need to spend time white-listing them in both the "Manage Apps" and "Battery Optimization" settings.
The phone comes set up with the standard Android navigation buttons, but you have the option of removing this bar and gaining extra screen real estate by switching to either swipe gestures or a navigation dock. The dock is a floating white circle that you can drag around the screen – you touch it to go back, hold to go home or hold and swipe to go to recent tasks. This dock tended to get in my way, so I quickly switched to swipe gestures and these suited me much better. You navigate by swiping in from the edges of the screen – from the bottom to go home, from the bottom and hold for recent tasks and from the left or right to go back. These actions did take a few days to sink into my muscle memory but from then on using them was plain sailing.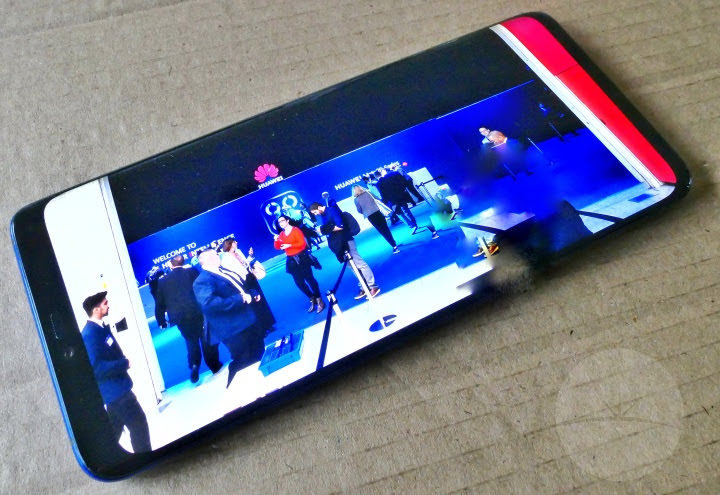 Conclusion
Huawei have obviously gone all-out on the Mate 20 Pro, making sure they match or exceed the capabilities of other big-name flagship devices. The excellent camera performance will certainly be a strong selling point, but the Mate 20 Pro can also hold it's head up in almost every other area – an attractive, premium build with full IP68 water and dust resistance, large beautiful OLED HDR display, great processor performance and a high-capacity battery that never lets you down.
There's nothing cheap about the Mate 20 Pro, especially the €1049 / £899 price tag. While this won't fit into everyone's budget, consider the price of some of it's peers and it's easy to justify for what will certainly be considered one of the best phones of 2018. Of course there are cheaper alternatives, but the bottom line is you still need to be prepared to pay this type of money to get this level of camera performance.
You'll find just about every feature you ever found useful on other handsets, while the envelope gets pushed even further with the likes of the in-display fingerprint sensor, 3D face detection and reverse wireless charging. And it's not just a case of Huawei throwing these features in just for bragging rights – everything works together well to make the Mate 20 Pro experience much greater than the sum of it's parts.
I have no hesitation in recommending the Huawei Mate 20 Pro. It's not just a phone with a killer camera – it's an outstanding, full featured and high performance all-rounder that won't disappoint.