Mini projector technology has been steadily advancing and now provides a viable alternative to a big-screen TV. Today we're taking a look at Anker's upgrade to the ultra-portable Nebula Capsule. The can-shaped Nebula Capsule II now runs a stock version of the full-blown Android TV operating system and adds some killer features such as 200 ANSI Lumen brightness, auto-focus and auto-keystone correction.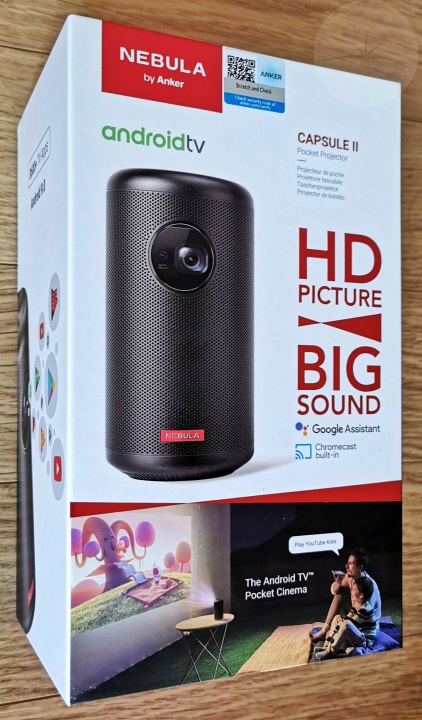 Along with the Capsule II you get a USB-C PD wall charger, a short USB-C to USB-C cable and a small remote (including a couple of AAA batteries). For a product designed for portability we'd liked to have seem some kind of storage protection included – even just a simple carry pouch. However Anker do sell a travel case separately for an additional £19.99.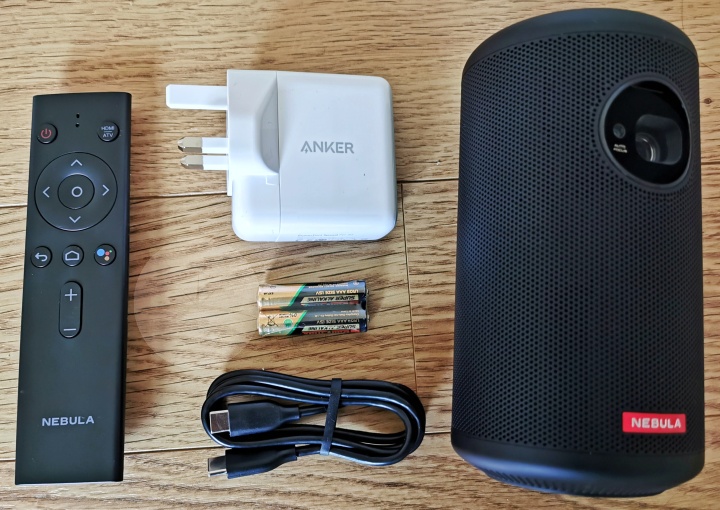 You'll be aware you're carrying the Capsule II, but it shouldn't be a burden thanks to the relatively small size and 740g weight. While the 9700mAh internal battery means you won't be allowed to fly with it in a checked-in suitcase, it'd certainly fit into hand luggage for those who don't want to be relying on hotel TV while abroad.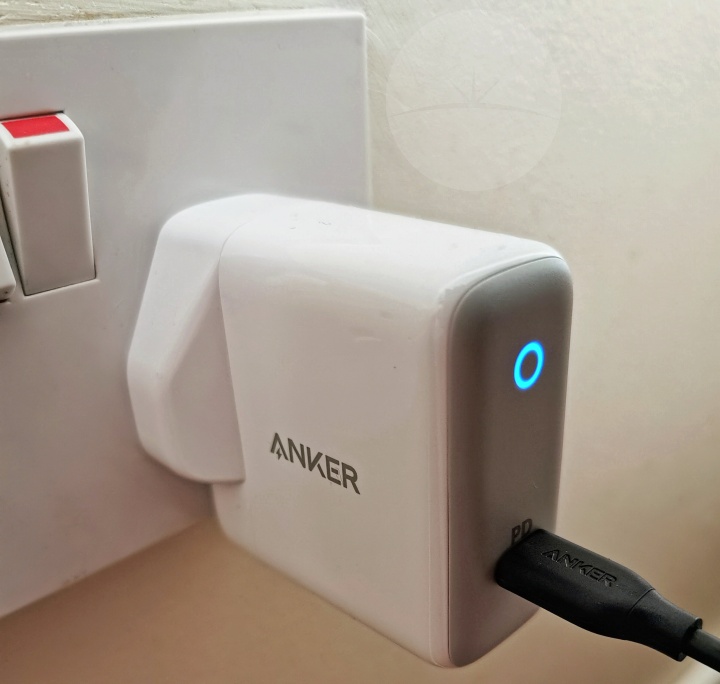 The battery allows this projector to run without the power cable for around 2.5 hours – enough for most movies. It takes another 2.5 hours to recharge using the supplied Power Delivery charger but charging can take as long as 7.5 hours using standard USB.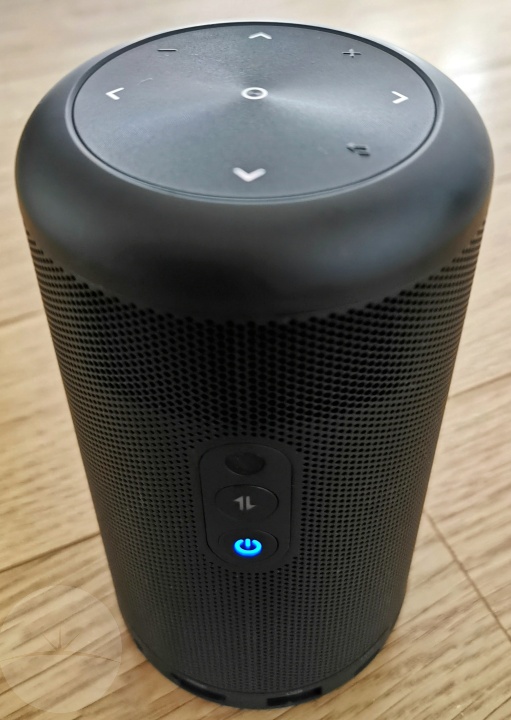 There are backlit capacitive touch controls at the top of the device, with a power and Bluetooth mode button at the side. Bluetooth mode lets the Capsule II act like a very respectable wireless speaker – another useful feature (especially when travelling). Below this you'll find the ports – HDMI input, USB Type-A for data, USB Type C for charging and a 3.5mm headphone jack. The rubberised base also has a ¼" tripod socket allowing the device to be securely mounted.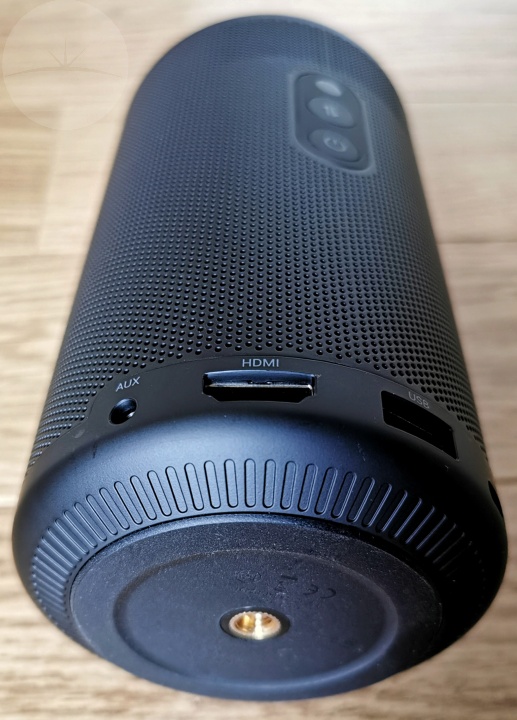 Once you point the Nebula Capsule II at a wall and fire it up, the device projects it's bright image and automatically adjusts the focus and vertical keystone correction for you. This convenience over needing to make manual adjustments shouldn't be underestimated – it's a real game changer to get that perfectly adjusted image every time. The device will automatically refocus after movement is detected and you can also trigger this manually by holding down the HDMI/ATV button on the remote.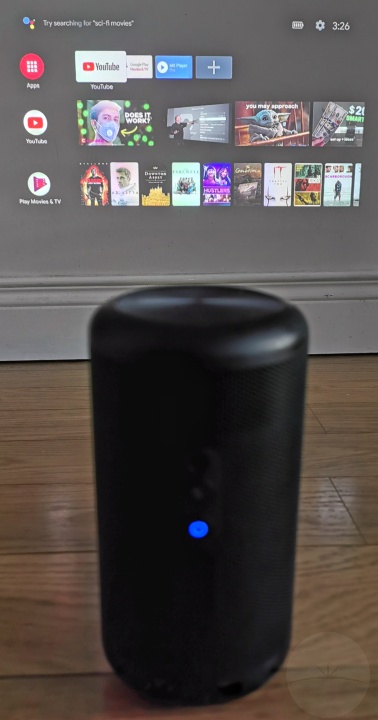 You get a screen size between 20″ and 100″ depending on distance from the wall. Smaller sizes look very sharp and bright, but we found we did need the room to be pretty dark for sizes over 40″. Picture quality is very good with nice contrast and colour saturation.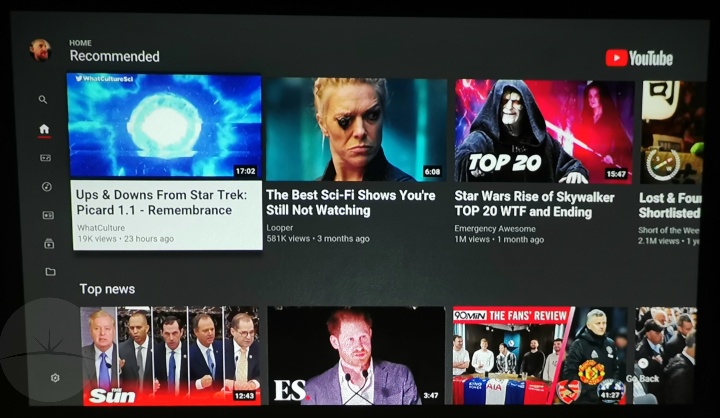 Fan noise is minimal and once the mono 8W internal speaker was in use we didn't even notice it. We were pretty impressed with this speaker as it has good clarity and decent bass. It can also be driven pretty loud without distortion.
The remote resembles the one you get with Amazon Fire sticks and connects to the Capsule II via Bluetooth – avoiding line-of-sight issues and allowing voice commands to the Google Assistant (via a dedicated button and a small mic near the top). This remote made the Android TV interface simple to navigate. Alternatively there's also a Nebula Connect app you can install on your phone that connects over WiFi to allow navigation and easier text input.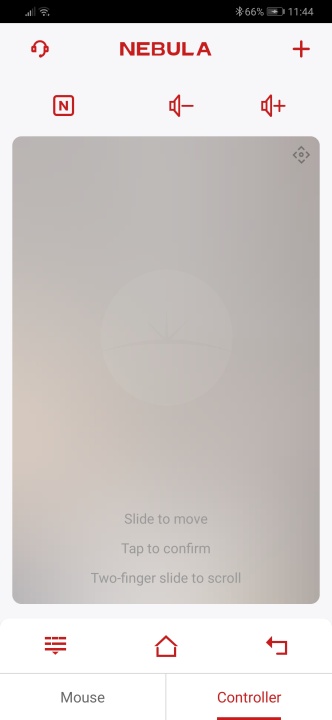 Internally the Capsule II has similar specs to a lot of budget Android TV boxes on the market – the trusty Amlogic S905X processor, combined with 2GB of DDR3 RAM and 8GB of eMMC storage. Performance was smooth for navigation and streaming, but we wouldn't recommend using this for anything beyond simple games.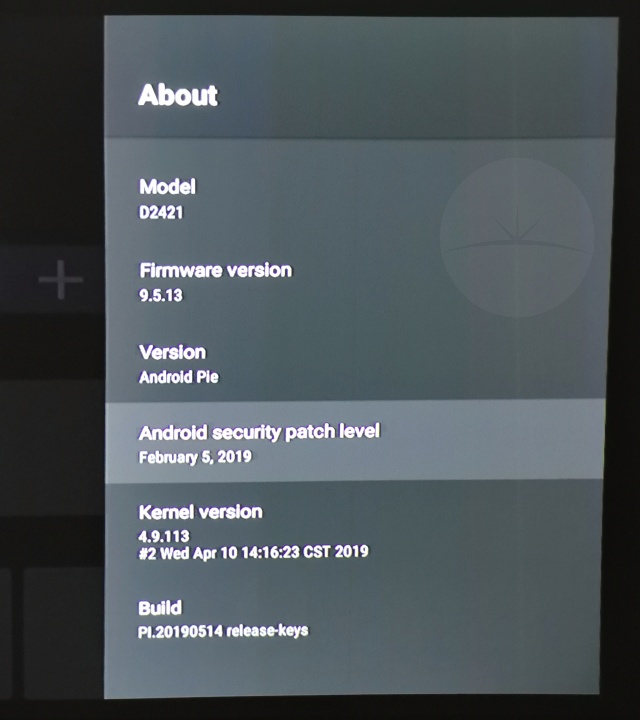 The Android TV 9.0 interface is simple to use, with the home screen giving you content recommendations based on the installed apps. You get all the voice control smarts of the Google Assistant and the Play Store is available for any other apps you need.
A couple of notable exceptions seem to be Netflix and Amazon Prime Video which aren't currently available by default due to certification issues. However the Nebula Connect app can help you get around this by walking you through sideloading the phone versions of the app. Alternatively the Capsule II also acts as a Chromecast receiver letting you cast content from your phone over WiFi. If all else fails then there's always the HDMI and USB-A ports that'll accept input from loads of other devices.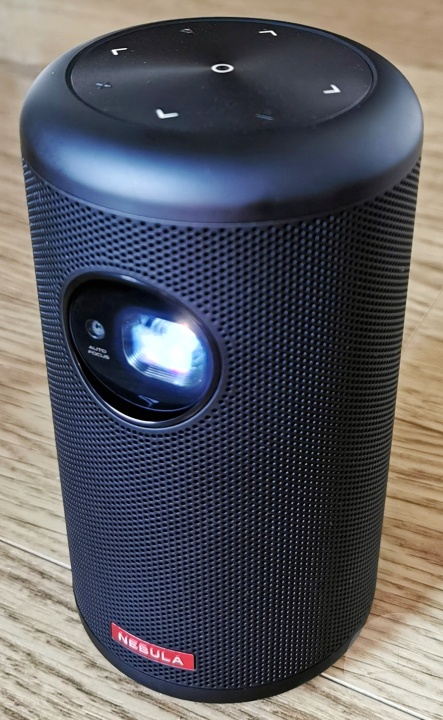 It's the £499.99/$579.99 price tag that will probably be the biggest deterrent to buying this projector since there are quite a few cheaper alternatives available. Overall we did feel this cost was understandable considering all the technology Anker have packed into this well designed and compact little unit.
If you've got the cash and are looking for a top travel projector then you couldn't go far wrong with the Nebula Capsule II. It's a great piece of kit and we can definitely recommend it to those in the market for a pico projector. It's easy to bring with you and lets you get a highly watchable big screen Smart TV experience up and running quickly, and without all the hassle.