While this isn't the first mini-drone we've reviewed at Droid Horizon, as it costs around $20 (£15) the JJRC H20 RC "Hexacopter" is probably the cheapest. At this low price can it really be any good?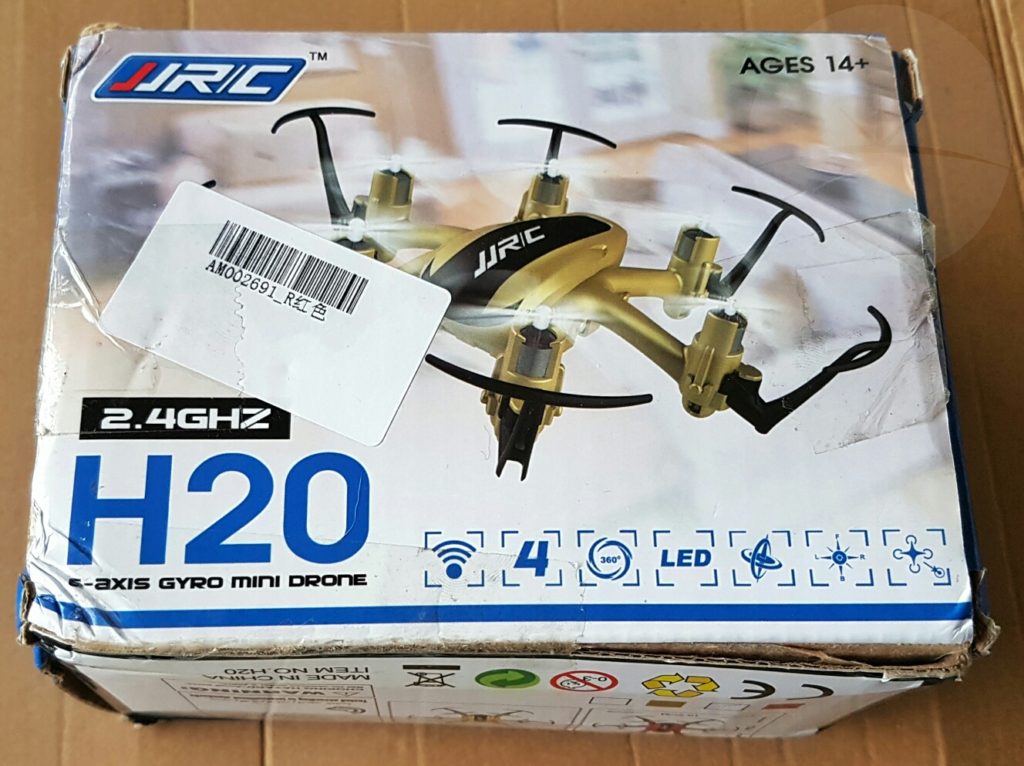 Accompanying this tiny drone inside the cardboard box you get an instruction leaflet, plastic shelled wireless controller, a yellow USB charging cable, a small screwdriver and 6 spare propeller blades. The screwdriver opens a panel on the controller so that you can fit a couple of AA batteries.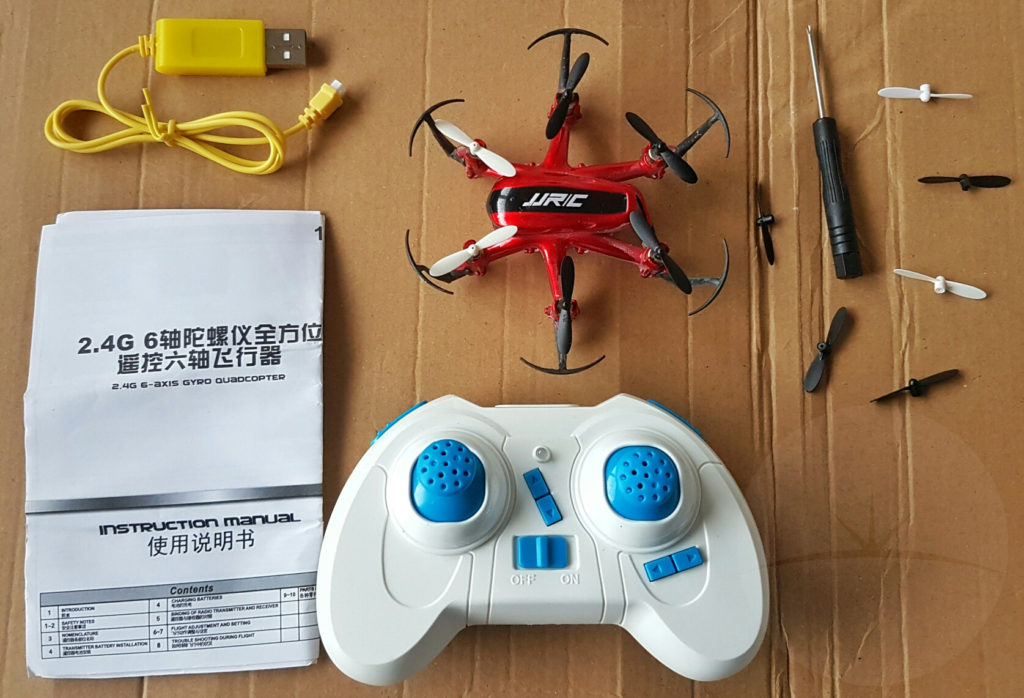 As you'd expect from something called a hexacopter, it also has 6 small propeller blades onboard – 4 black and 2 white (the colour difference is just to help you identify the front). There are also plastic bumpers that give some protection to the blades from any impacts. The body has a light plastic shell with a rechargeable battery located underneath. Coming out of the battery are a couple of short wires with a circuit connector on the end. This attaches to the USB cable for charging (takes around 45 minutes) and plugs into the copter when you want to power it up (no on/off switch).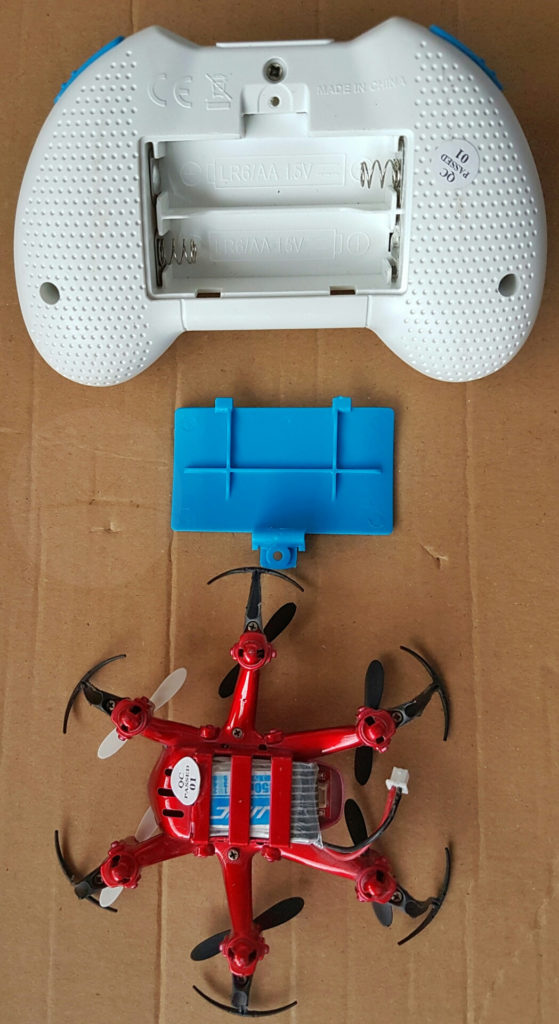 Once it's got power the drone lights up with blue LEDs at the front and red at the back. The controller will beep until you bring the left thumb-wheel to the bottom and then the beeping stops and you simply raise the wheel to increase propeller speed and start to fly. The right thumb-wheel controls direction and there's also 4 buttons you can use to adjust the calibration so that you can get it to fly straight up. For me this calibration seemed to repeatedly go out of whack and needed re-set.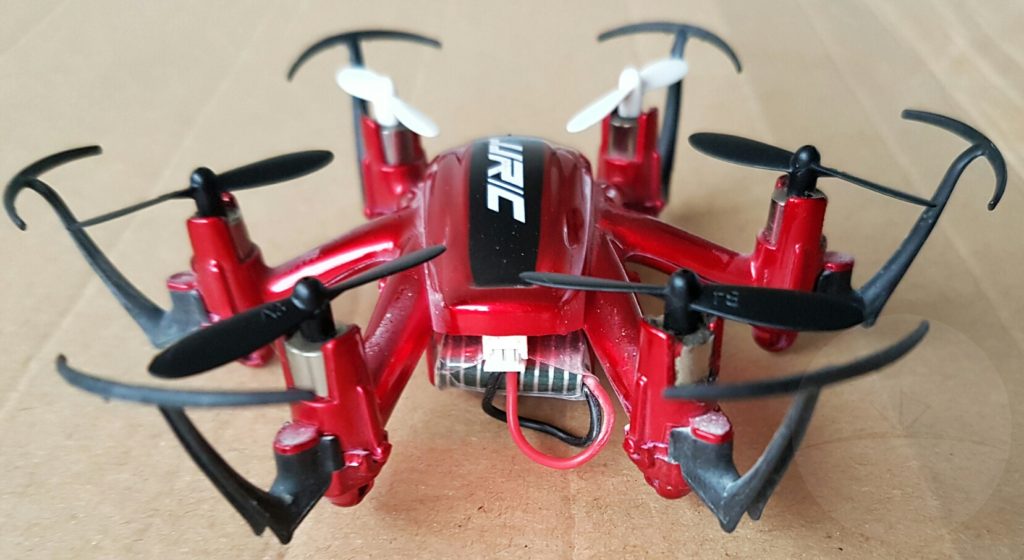 This was my first time playing with one of these drones and I had quite a few spectacular crashes. While the battery only lasts between 5 and 10 minutes, after a few goes I started to get the hang of it and it is a lot of fun. The propellers frequently fly off or get tangled in hair (sadly not mine, but from my far-from pet free home). However so far they have stood up to the abuse and I haven't lost any.
Although my H20 is still intact, I have to admit to being fairly careful when using and handling it. The build doesn't inspire a lot of confidence and I don't think that fiddly circuit connector will stand up to continually being plugged in and out. The packaging recommends ages 14+ which is probably justified. Younger kids would destroy this in no time and to begin with my careless fingers managed to get some papercut like injuries from the propellers.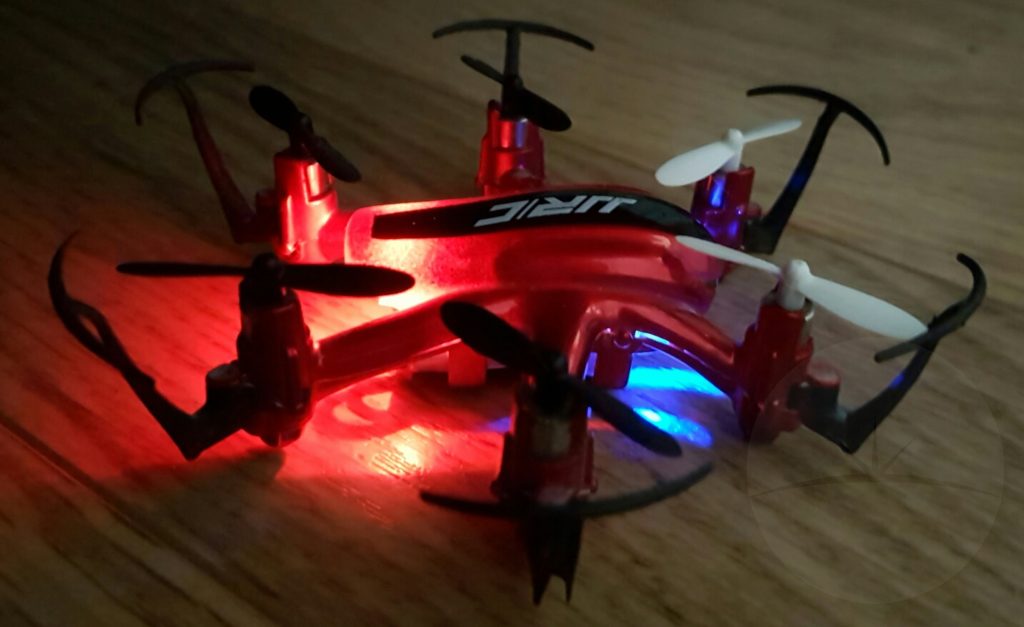 Therefore I'd consider this as a big boy's toy for those itching to try out a drone for minimal investment. It's definitely cool to play with and if you exercise a little care you can get lots of fun out of it. However it is a toy and only good for short-term amusement. If you're looking for a serious drone that will give you longer-term use then this won't do – you'll need to dig deeper in your wallet.
Overall the JJRC H20 definitely delivers some great thrills for the price. You can check it out from the links below to the Arshiner and Amazon websites…