Review: Groov-e Soundblaster
The Groov-e SoundBlaster features Bluetooth wireless playback, audio streaming (A2DP) and PLL FM stereo radio tuner with 20 station memory presets.
The Soundblaster can wirelessly playback audio from any device with Bluetooth A2DP function. The wireless range is approximately within 10m (30ft). Simply pair your device and enjoy wireless audio streaming. In addition, the Soundblaster comes with 3.5mm aux-input, allowing you to connect a device using an auxillary cable. You can also use the USB and SD Card memory ports for MP3 but not .FLAC playback. Using the ports will allow you to listen to your music through the high quality 6W speakers of the Soundblaster.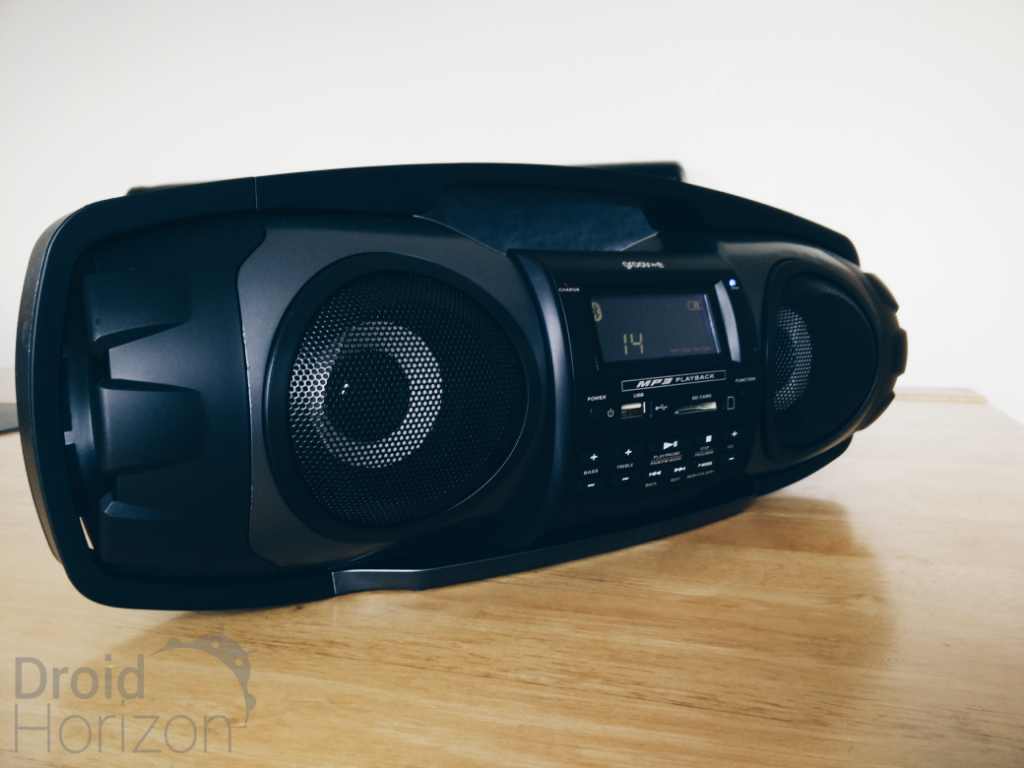 The Groove-e offers a great design, the retro feel and different shades of grey plastic take me back to the mid 1990's when CD players were more portable and loaded from the top via a long press release mechanism. I'm sure others will remember the style, I suppose seeing as it's 2015, you could call this a retro design. Although built from plastic, I'm happy with the soundblaster's build quality, it could take a bit of abuse and would probably survive a tumble to the floor. Probably.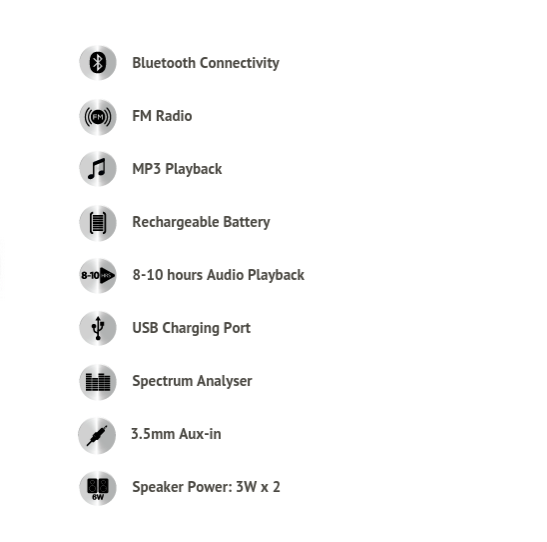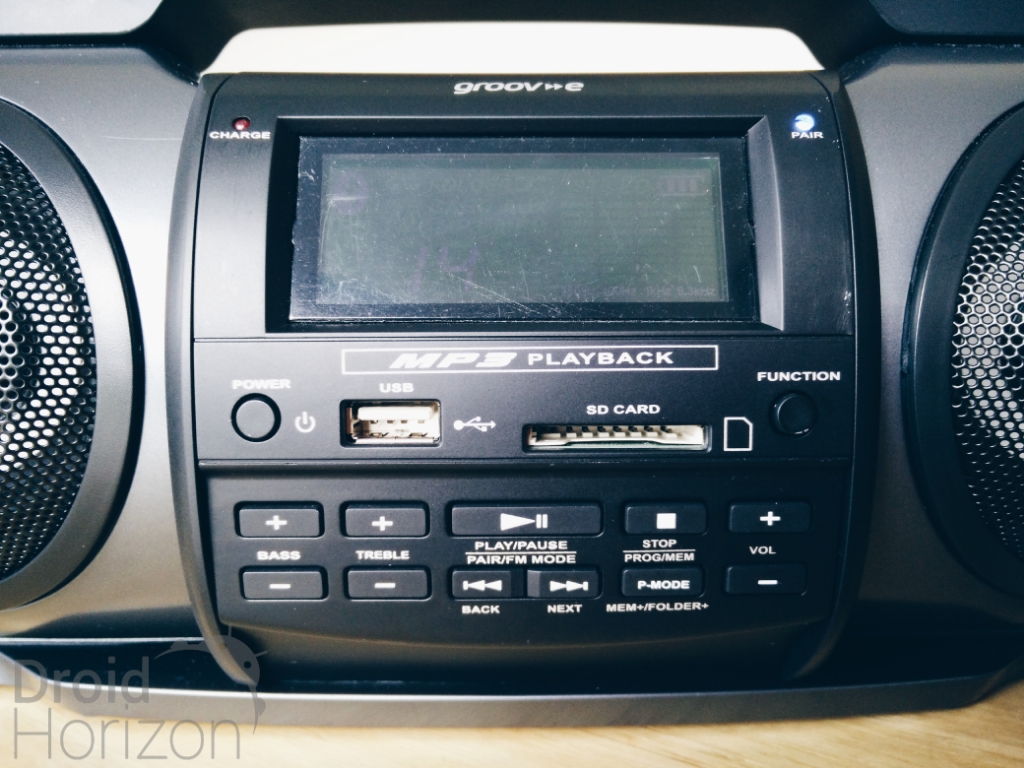 This bad boy plays everything you can throw at it. Via Bluetooth, SD card, full size USB, 3.5mm jack and even traditional FM radio (not that I listen to a lot of local radio these days. Would it have been too much to expect DAB?) This is where things get a little hit and miss for me. Although the listing describes the soundblaster as having Bluetooth A2DP function. In testing I found the range to be only good from less than 10 feet away never mind 10 meters. Drop outs are a common occurrence even within this range, I had ended up just leaving my connected device beside the speaker and even then a few drop outs would still happen. Even connecting for the first time, there's a delay from when you hit play, the music plays at a slower pace and you can hear the track speed up to sync. I haven't heard that before on the tons of other speakers we've reviewed. To make things even worse, there's a lot of crazy feedback even when sitting in pairing mode. I'll hazard a guess at the FM radio frequency actually interferes with the Bluetooth frequency. I'm far from a sound engineer by the way, but something like this shouldn't happen and really shouldn't pass testing stage.
It gets worse. Maybe if the Groov-e Sounblaster sounded great, you'd forgive the issues we've already pointed out. Well, it doesn't sound very good either. You can turn up the bass and treble via actual hard buttons on the accessory. The treble does add a little to the top but the bass sounds as muddy as a Florida swamp. There's zero clarity around the mids or vocal range and a sound stage where you can't grasp which direction or instrument is where.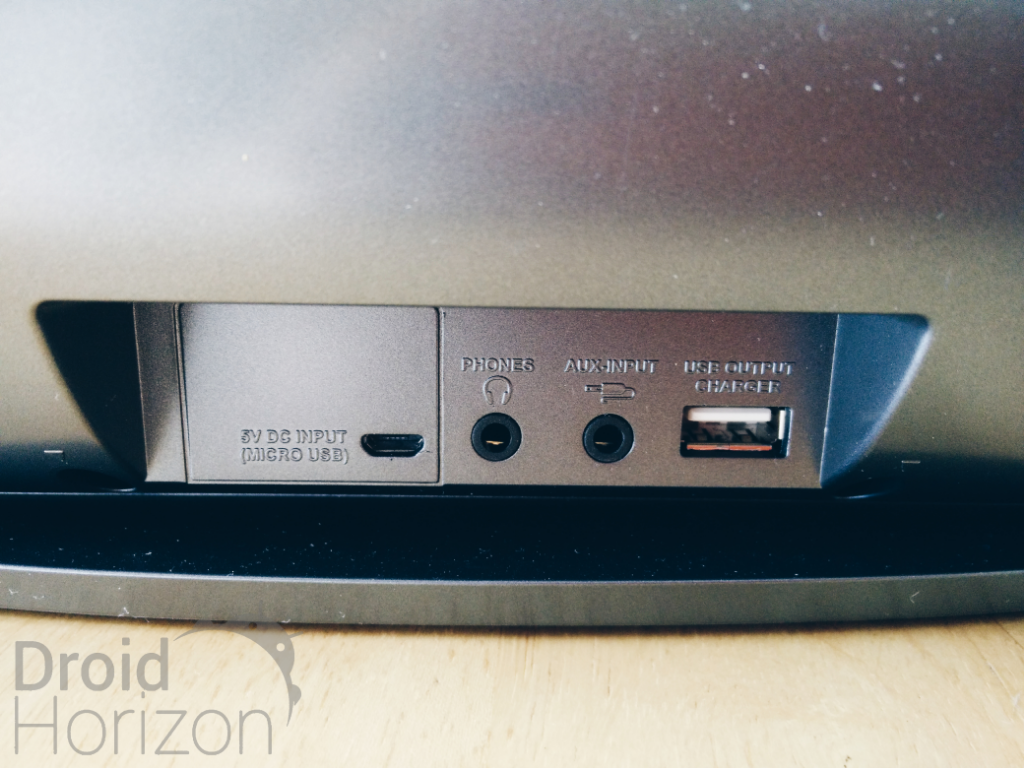 Around the back of the the Groov-e Soundblaster you'll find a few interesting ports. Charging is done by a standard micro USB and charges to full battery in around 8 hours. I can't find any mention in the documents or online of the capacity, but, you can also charge your phone via the output USB if you need to. This would just be in an emergency or to make your phone last another half hour before you leave your friends house and get the bus home.
I was super excited when this company contacted me to review the Groov-e Soundblaster until I saw the blatant iPhone resting on top. I thought, "OK I'll set my Android phones on top of it, no big deal." You'd assume it has wireless charging or even a cradle but no. I can't be too harsh, I love the style, the design and the nostalgia feel but this device is let down in so many different areas I'd honestly find it hard to recommend to anyone to purchase for £80. The poor sound quality and feedback is just too much of a negative for me. We have to review what sits in front of us on the review table.
If you are interested in buying the Groov-e Soundblaster you can HERE