In our latest Vaping review, we take a look at the VIVID E-liquid Starter Kit
We were sent the VIVID Starter Kit for review by the company themselves, although we usually review accessories, speakers and headphones. We thought this particular product would be suitable for our average readers. If we're honest, this style of e-cigarette is likely aimed at the person thinking about giving up the habit or starting to cut down. If you own any kind of RDA or RTA cloud producing tank and mod combo, this isn't for you. Maybe you could and I certainly would recommend the VIVID Starter Kit to a relative or work colleague that is slightly frightened by these huge mods and also somewhat confused by the jargon and buzzwords. It can be rather daunting.
VIVID supply everything you need in the box to get you on the way. (Bring your own willpower) the atomizer itself and a choice of flavours along with a micro USB cable for charging. Everything is explained well with the included documentation and the presentation is pleasant. The battery comes charged so you"ll be able to vape straight away. There are very little parts to the build so this is a huge selling point to beginners, the VIVID Starter Kit's beauty is in the simplicity.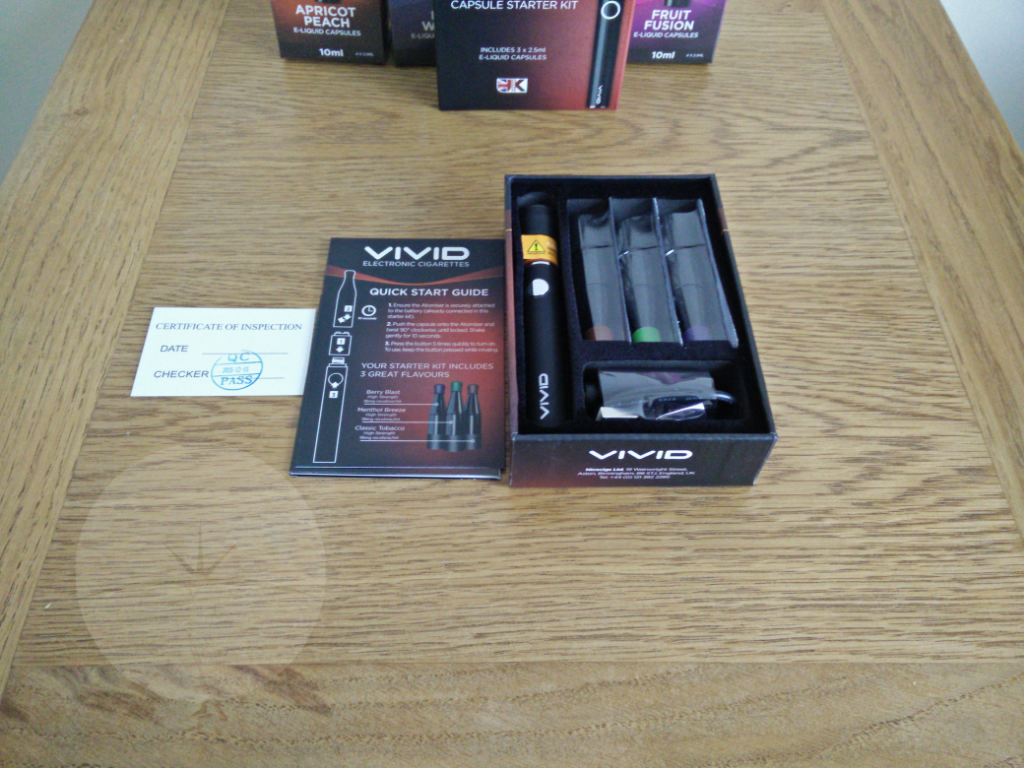 In use, the VIVID is simple to set, use and carry around with you. I found when giving up cigarettes it's a good idea to have the vaper with you at all times. Not a problem with the sleek form factor! In my usage the refill capsule will last a day with a lot of use.  Don't be shy pulling out your new accessory, it looks great and it's one less regular cigarette smoked. Battery needs charged every day too though sometimes in the evening. The Starter Kit doesn't take long to charge to 100% around 2 hours usually. Capsules contain 2.5ml of liquid, if you look close you can see the level through the capsule. A pack of capsules cost £5 which contains 4 capsules (10ml). So £5 will have you vaping for 4 days. I hope that seems clear…..
A handsome looking device in a matte black finish with red + steel finish the VIVID Starter Kit wouldn't take a fall to the kitchen tiles very well, I'd be certain something will need replaced, hopefully not the entire unit. Luckily, there's plenty of grip in the hand and there are no rattles once everything is in it's place properly.
This Starter Kit from VIVID is supposed to mimic a cigarette which it does in looks and how it "smokes." The "pull / puff" is tight to the mouth then to the lung just like a regular ciggy. This mightn't make sense to someone reading our review that has never tried to quit but any vape user will understand or will come to. The fire button is responsive, it's a short sharp hit that will certainly satisfy any smoker.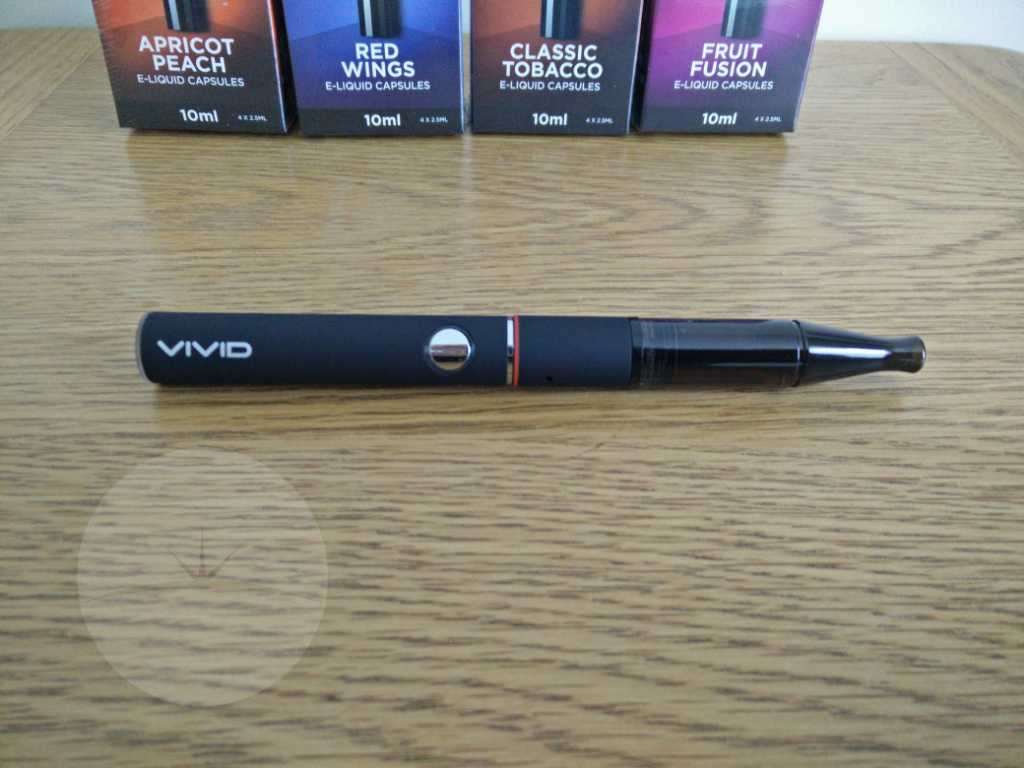 Numerous strength and flavours are available, my personal favourite is the Berry Blast. Most capsules mimic a particular tobacco style and come in two strengths 18mg or 11mg this means how much nicotine is included. Remember these need to be changed every day under normal use but can be more or less. A simple push and twist to put on, a simple twist and pull to take off. Everything is tight, I hadn't noticed any leaks in use. Best practice is to keep the vape upright when you can, throwing in a bag might cause a little leaking but I never had the device away from myself to comment on rough transit!? Is that a thing? It is now.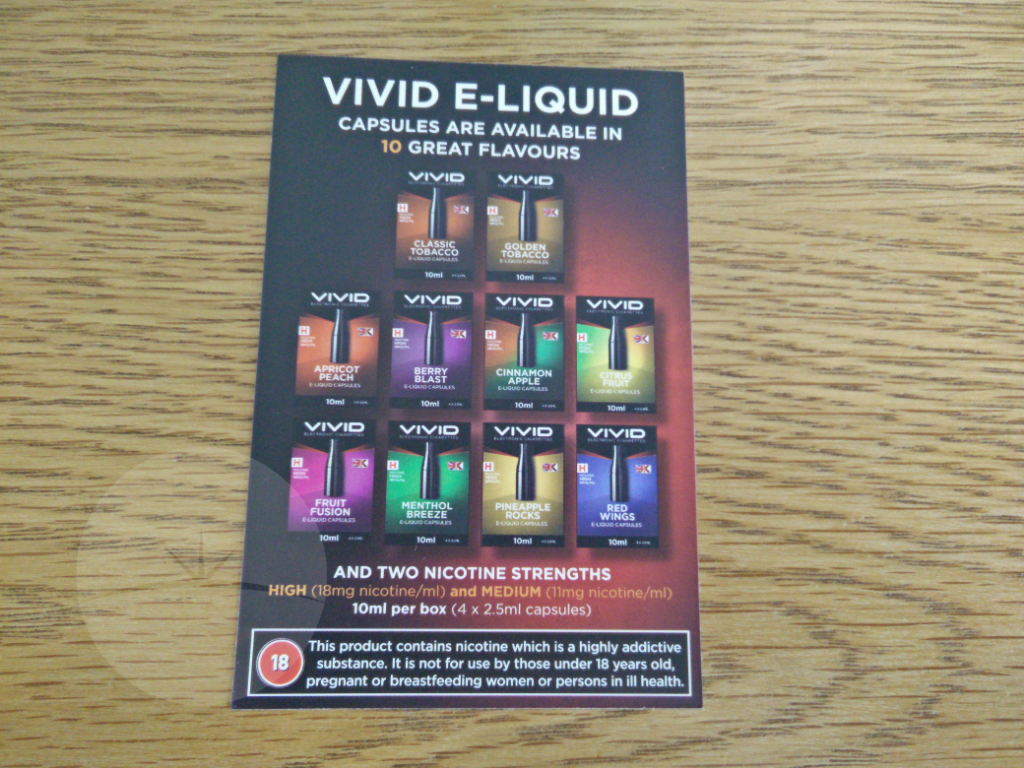 To add my conclusion, I've since moved on from the VIVID Start Kit and purchased a few different big boy tanks and mods. I honestly think that this style of vape is a starting point to get away from cigarettes. There's a lot more to quitting than just taking up vaping and everyone differs, but, I'm really happy to recommend the VIVID Starter KIt as a stepping stone to vaping or even as a substitute. I'd be absolutely delighted if someone read this article and quit smoking using the VIVID Starter Kit. Please be aware though, we don't sell the product on our site, nor, are we anyway affiliated with the company. We reviewed this particular accessory like any other review we publish, please check the laws in your area before purchasing, DroidHorizon are in no way responsible or liable.
Once happy to proceed.. Customers can purchase direct from VIVID priced at £29.99 with two choices of capsules to start.