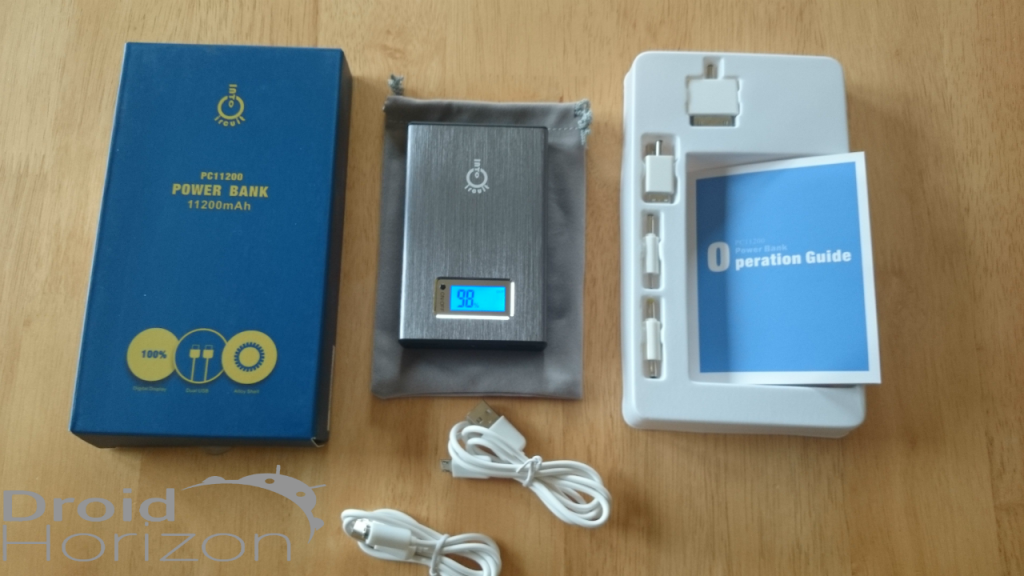 Intocircuit Power Castle – Review
Usually referred to as a "power brick," the Intocircuit Power Castle offers a high capacity, 11200 mAh battery for an emergency scenario or even as a handy solution for charging all those expensive toys we own. I'm sure everyone that reads Android based sites have a few phones, a tablet or 2 and a Bluetooth speaker of some description. All these shiny things need lots of juice to run and if there was ever a technology that hasn't really evolved that much, I'd say it was battery life. These charging solutions are vastly popular because they fit into our hectic schedules and life styles of always being on the go. You don't have to fear about being far from a plug any more, throw the Intocircuit Power Castle in your work bag along with your lunch box or briefcase if you're a businessman and you'll be able to charge all your gadgets. as long as you have the correct cable/cord. 
(Apple Lightning Cable Not Provided!)
In the box you'll find a vast amount of connections to charge nearly every device you could need. For once the booklet inside is extremely helpful and lists what's included. (Not being a man who reads the instructions, I did for this review and I'm glad I did.) You'll find…
PSP Connector
Nokia DC2.0 Connector
Mini USB
Samsung Connector
Apple Connector
DC3.5 Switching Cable. USB on one side then the various connectors fit on the other
Micro USB Cable. Used for charging or discharging.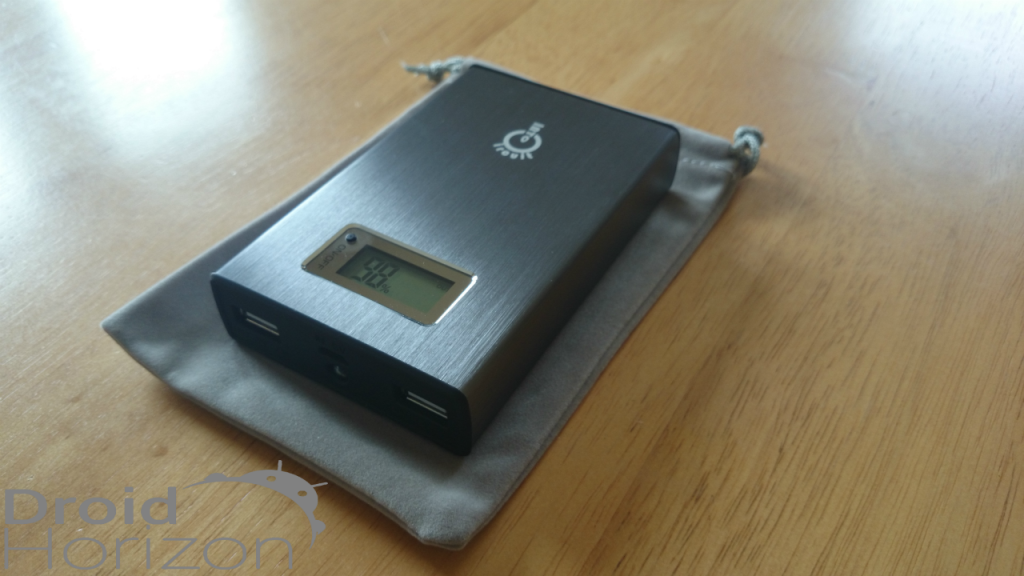 The Intocircuit Power Castle weighs in at 278 grams so it isn't heavy. It's dimensions are (LWH) 110mm x 71mm x 22mm. Not a large brick either, it's extremely portable. Maybe not for carrying around in your pocket but when travelling or away on business, the device is what you need. Cased in an aluminum alloy shell that is laser carved, I'd 100 % say it feels premium in use or sitting on a table. The device we reviewed is grey but other colours are available, the drawstring bag is included and is so convenient! Keeping to an "industrial design," with everything accessible at one end, the LED screen gives you the exact information in a clean and easy to read manner. With two full size USB ports and a micro for charging. One gives an output of 1.0A and the other 2.1A. The Micro USB is for charging the Intocircuit it's self. All 5 volt. An LED flashlight is also at the bottom in case of emergency. Handy to have.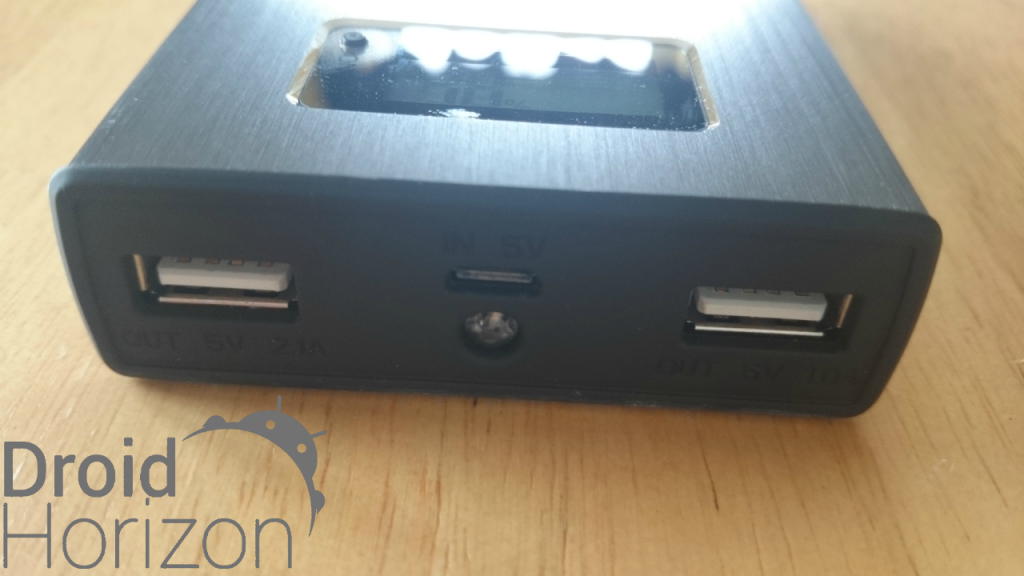 In use.. I charged my Nexus 5 from 2% battery to 48% and it used 7% of the Power Castle's power. If you do the maths you'll know this thing has plenty of juice to charge your devices. The official stats say 450~500 % to most mobile phones' battery life. I'd certainly agree with that. Although I probably wouldn't need to charge a tablet to full charge using the Intocircuit, I certainly found it extremely handy at a friend's BarBeQue recently where it charged my portable speaker and my phone at the same time. We had the tunes playing into the small hours with plenty spare. I'll be heading off on holiday soon and this device will be first on the list of what devices I take.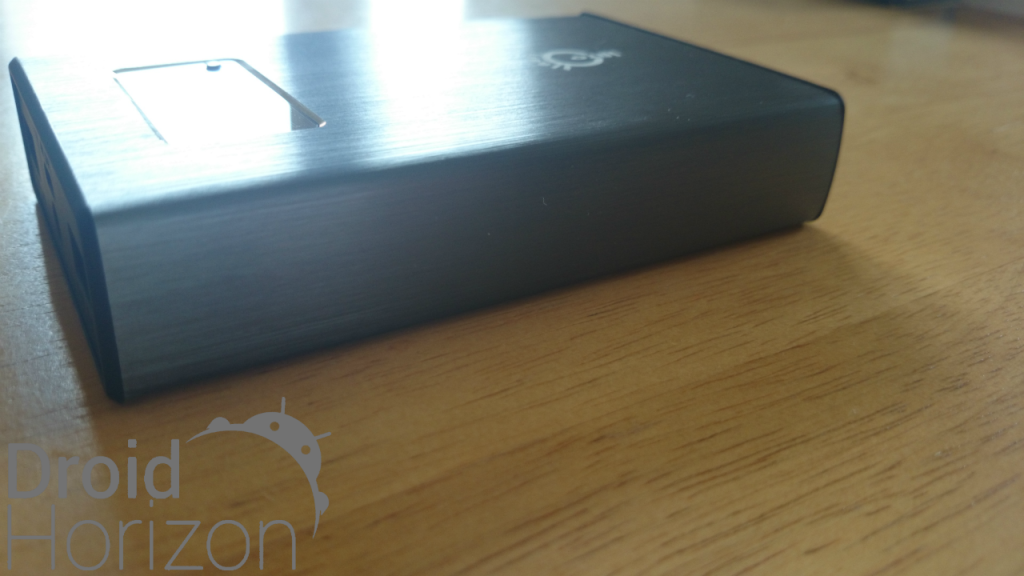 Yes there are a hundred and one power banks available online, we have reviewed a few ourselves if you want to have a look at the others, but, for convenience, price, the LED display, and included connectors, I'd certainly recommend  DroidHorizon readers to consider the Intocircuit Power Castle as a great portable charging solution for their devices.
Did I mention that this can be purchased on Amazon US for under $30 with free shipping or under £25 on Amazon UK. That's a fantastic price for what you get!